In this article, our partners from Athletes USA will answer some of your most FAQ's on the U.S. sports scholarship system and explain how Athletes USA may be able to help you with an American college scholarship opportunity.
This year Paul Jubb (UK) was able to make his Wimbledon debut thanks to his successes in American collegiate sport, but there are many more.
If you love the sport, you might have heard about the U.S. sports scholarship system. New names emerge out of this highly decorated system every year that allows aspiring professionals to work towards their dreams. This year Paul Jubb (U.K.) made his Wimbledon debut thanks to his successes in American collegiate sport, but there are many more. At Athletes USA, we have helped 784 athletes in the last two years alone!
How does the U.S. college system work?
Answered, the U.S. College system provides opportunities for young students from all over the world to combine their sport and a degree in what we can describe as professional circumstances. So, while the game is classed as 'amateur' due to regulations, this system's approach is very professional. Student-athletes are likely to train twice a day for five days a week with access to some of the world's best sporting facilities! You even fly to your competitions! Your studies are worked around your sporting schedule, so you don't have to compromise either. College sport often attracts thousands of fans, too; in 2017, the highest average football (Soccer) attendance across the season was 3,500. That's more than some League 1 and 2 clubs in the United Kingdom! American football was 110,737 (you read correctly), while basketball was 19,756.
If you're good at your sport, a university will want you on their team!
What is a scholarship?
A scholarship is an allocation of money that a university (college for any Americans) will put towards your degree, accommodation, books, and other perks to bring the best athletes to their university. Why would they do this? College sport is big business, and universities make good revenues out of a successful sports program. If you're good at your competition, a university will want you on their team! Getting a scholarship isn't easy, however, and those who wish to embark on the journey have to be prepared to invest effort, time, and money.
How much does studying in America cost?
Studying in America can be expensive and depends on several factors such as university size, location, reputation, and the division of the sports program. However, on average, costs will be around 30,000 dollars per year, making scholarships all the more critical. With a scholarship, you could pay nothing and obtain what is called a full ride. This is extremely rare, however, and only 1% of athletes receive this amount of funding. At athletes USA, we estimate costs between £0 – £12,000 per year. If you consider that this often includes your degree, accommodation on campus, food, equipment, and travel costs with your team, there's a lot to be gained. At Athletes USA, we can provide you with a free evaluation of your expenses based on your sporting and academic achievements with no obligation. Scholarship funding can also be obtained through successful academic results, so you must focus on your sport and studies equally!
How long does it take to complete a degree in the U.S.?
NCAA or NAIA university degrees usually take four years, while Junior colleges (NJCAA) offer 2-year associate degrees. Junior college is often an excellent pathway into the American university system for those who haven't made the level 'yet' to be on an NCAA or NAIA program. Once you finish the two years at junior college, you can transfer to an NCAA or NAIA program and carry on with the remaining two years of your degree.
How is a degree in the U.S. different from the U.K.?
4-year undergraduate degrees in the U.S. are comprised of 120-128 semester credit hours (60 of which may be transferred from an associate degree at a community/junior college after the two years). The four years spent as an undergraduate at a university are typically known as the freshman (1st year), sophomore (2nd), junior (3rd), and senior year (4th).
In the U.S., degrees begin more broadly, encompassing some subjects ranging from English composition, social sciences, humanities, history, physical or natural sciences, and mathematics. Once the core requirements have been met, your university will ask you to choose a specific field of study, also known as the major. The final two years are spent taking more courses that are directly related to your major. Also, you can receive scholarship funding for a Masters!
How can Athletes USA help me?
We must mention that you are not required to use our services to gain a scholarship. However, it will help, and it is likely to save you money in the long run. Obtaining a scholarship is no easy task. It's a complex process that takes time, knowledge, and support along the way. Amongst that, there is an SAT exam to make and a Visa you need to apply for. All this can be confusing and a little overwhelming for someone who has not done it before.
Most importantly, we have been working since 2008 and placed over 3000 athletes successfully in the U.S. collegiate system. We have built a trusted network of over 20,000 college coaches throughout the years and saved our athletes over $100,000,000 in tuition fees. Coaches can receive hundreds of applications a week; it is only through our network and experience that we can successfully place many athletes.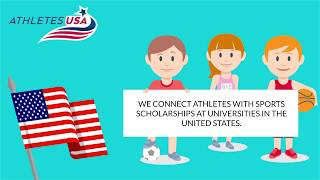 How long does a scholarship last, and can I lose it?
Scholarships are renewed on a year by year basis. However, you cannot lose a scholarship through poor performance or injury. In fact, scholarships are often improved based on performance. A scholarship can, however, be lost if an athlete breaches rules. For example, being consistently late for training or class, not meeting the required Grade Point Average or through misconduct.
How old do I have to be, and when should I start the process?
At athletes USA we advise that you start preparing for this process as early as 15. This gives you enough time to plan everything and provide you with better possibilities of achieving a scholarship. However, anything between 8-18 months is the right timing. We usually work with athletes between the ages of 15 – 25. However, we have recently placed a 31-year-old, which is pretty much unheard of!
How do I get started?
The first step is to sign up via our website (www.athletesusa.org) and receive your free evaluation. One of our consultants will be in touch to gather some further details, including video highlights/times/sporting achievements and a year by year timeline of your academic records dating back to year 9. Based on your evaluation, we recommend you speak to your parents and do some further research too. Our consultants will follow this up and talk to you and your parents to answer any additional questions you may have.
Do you have any success stories?
Sure, we have many! Please listen to our interview with Lauren Huggins, who is currently studying at Houston Baptist University and on a beach volleyball scholarship. You can also head to our Instagram (@athletesusa) or Facebook pages to see whom we've supported along the way.
Images: Athletes USA